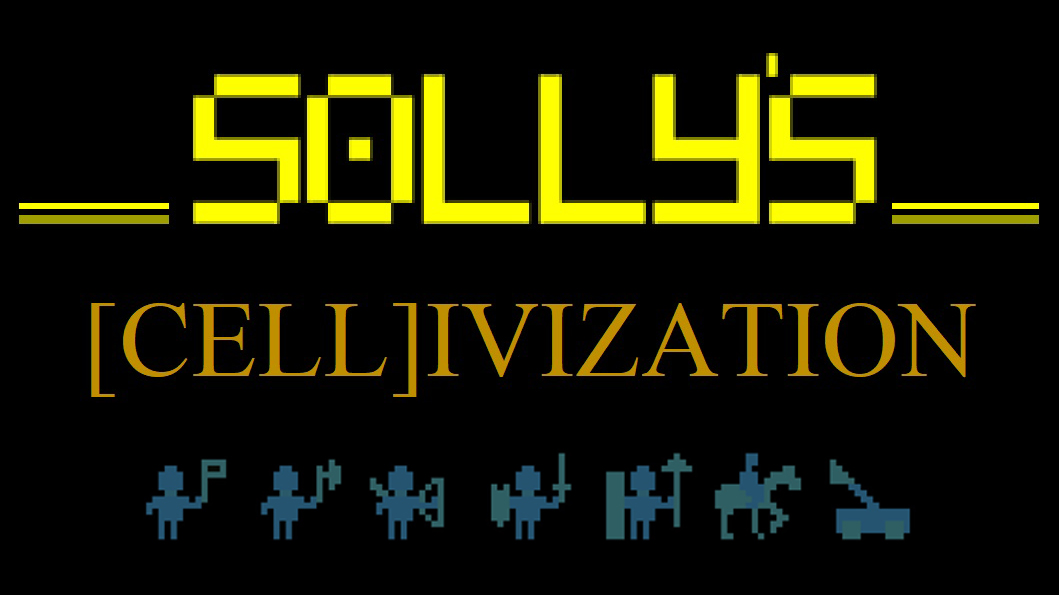 s0lly's [CELL]IVIZATION
s0lly's [CELL]IVIZATION
by s0lly

Current Version: v1.0

This is my first game in Excel, with the first iteration (v1.0) created in just around a week for the OLC CODEJAM 2019
The gamejam's theme is destruction, which is apt for this game's v1.0 iteration, given that the only way to win is to destroy the opposing team.

The game is very light on features (basically just build units and attack the opposition), but I will add on additional features - DLC you could call it - if people are keen to see more!
The game currently features:
- Two player game (BLUE vs GREEN), in a hot-seat environment
- Move units around using WASD
- Move the camera around the world map independently of unit movement
- Build different unit types in cities using 0-6 keys
- Multiple unit types available, each with their own statistics, with some having special abilities ( see the "Tiles" tab)
- Unit movement speed is dependent on the ground it traverses
- Build new cities to produce more units, more often
- One world, with a close-quarters or larger / longer game setting available
- Fog of war

Features in the pipeline:
- AI (!!!)
- More than two civilizations
- Each civilization to take all their unit / city turns together
- Cities to use resources such as food and production to alter its growth / build rate
- Ability to "own" world resources such as iron and horses
- More units, with units only being able to be built if particular resources are under control of the civilization
- Addition of the "gold" resource
- Diplomacy
- Science
- City buidings to improve unit / city / civilization stats
- Wonders!
- And more?! Please let me know if you have any ideas of things to add!

Known Issues:
- The game will break if no units exist - i.e. if all settlers have been used up to build cities and all other units are dead. If this happens, you'll need to add in a unit to fix the game.
- The game cannot proceed if a unit gets "stuck" - i.e. it has no available moves (somewhat like the king in Chess having no available moves). Move it manually or set its movement points to 0 to proceed.

Instructions:

First, you need to go to the sheet named "Main Menu". Next, you need to press the "Start Deathmatch" or "Start Large World" buttons to begin the respective game.

If you are continuing on from a saved game, go the tab "Screen", where you need to run the macro called "Play" - you can do this using the "Play Game" button.
This macro is automatically run if the "Main Menu" buttons are activated.

This macro assigns new functionality to the following keys:
- "w", "a", "s", "d": press these to move the unit up, down, left or right
- arrow keys: press these to move the camera up, down, left or right
- "0"-"6": press one of these keys when focused on a city to build the unit corresponding to that key at that city
- "b": press this key when the unit is a Settler, to build a new city
- "esc": press this to end the game and reset all key functionality

NOTE: this macro overrides these key's normal functionality - you must press ESC at the end of your session to reenble these keys in Excel to their original functionality
https://www.youtube.com/c/s0lly

https://www.instagram.com/s0lly.gaming/
https://www.twitch.tv/s0llygaming
THE MODEL / GAME IS PROVIDED WITHOUT WARRANTY OF ANY KIND, EXPRESS OR IMPLIED, INCLUDING BUT NOT LIMITED TO THE WARRANTIES OF MERCHANTABILITY, FITNESS FOR A PARTICULAR PURPOSE AND NONINFRINGEMENT IN NO EVENT SHALL THE AUTHORS BE LIABLE FOR ANY CLAIM, DAMAGES OR OTHER LIABILITY, WHETHER IN AN ACTION OF CONTRACT, TORT OR OTHERWISE, ARISING FROM, OUT OF OR IN CONNECTION WITH THE MODEL / GAME OR THE USE OR OTHER DEALINGS IN THE MODEL / GAME.